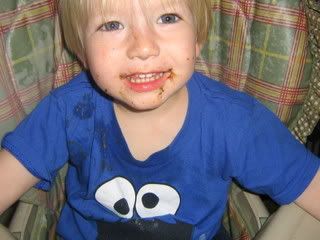 I am a bad mommy. I gave Z the cookie with the burned bottom, and I kept one that was perfectly done for myself. Of course, this cookie monster will eat a cookie that's covered in dog turd. Not that I have ever tried to feed him one, but S may have.
These are killer cookies. As my pastry chef roommate says, the dough is delicious. Best raw dough around, and the cookie part of the cooked cookie ain't bad either.
You can put anything in this dough. I am sure it will work unadorned, although I am not sure why you would want to. We have put leftover chopped up Halloween and Valentine's candy in, and I am planning on trying them soon with macadamias and craisins. (For me and S. I have a feeling Picky will turn those down, if he can resist. We'll see what happens late at night.)
This is the baisc recipe, and even though Picky bitches every time about their being nuts in them, he says they are the "best chocolate chip cookies in the world."
2 1/2 cups all purpose flour
1 tsp baking soda
3/4 tsp salt
1 cup butter
1 cup sugar
1/2 cup brown sugar
2 eggs
1 tsp vanilla extract
1 cup high cacao-content chips
1/2 cup chopped pecans or slivered almonds
Preheat oven to 350F. Line a baking sheet with parchment paper or a silpat.
In a medium bowl, whisk together flour, baking soda and salt.
In a large bowl, cream butter and sugars. Beat in eggs one at a time, followed by vanilla. Slowly mix in the flour.
Stir in 1 1/2 cups of accoutrements of your choice. I pretend these are semi-healthy due to dark chocolate (high in antioxidants) and nuts.
Drop heaping tablespoonfuls (or, as I do, use a mini ice cream scoop) onto the prepared baking sheet.
Bake at 350F for 10-12 minutes, until golden brown around the edges.
Cool for 3-5 minutes on the baking sheet, then transfer to a wire rack to cool completely.
Makes about 3 dozen.