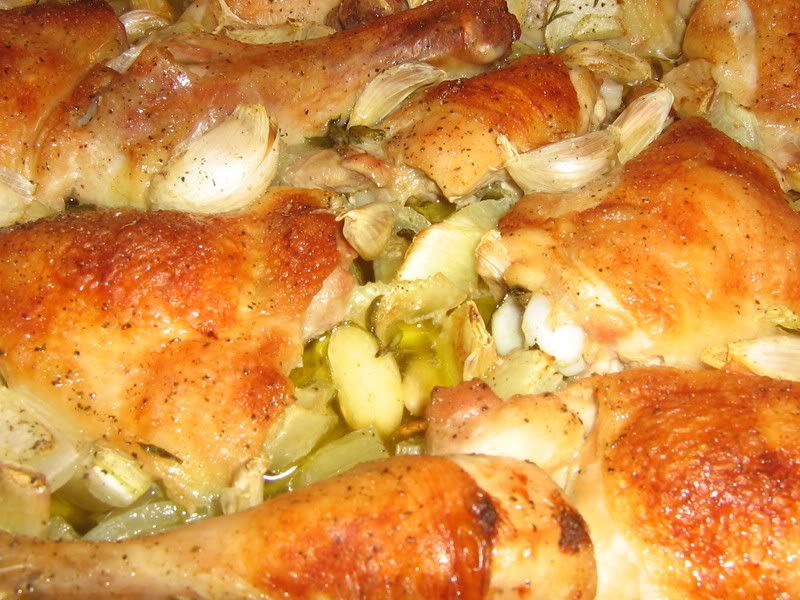 This is one of my signature dishes.
In fact, I think this is one of the first meals I ever cooked for Picky. He says he never ate anything like it before, and this was the first in many scary but rewarding culinary adventures I have invited him on.
We call it "Dirty clothes" in my house due to a misunderstanding. Picky thought the recipe was called "Thirty Cloves" and was asking for it as such. I thought he was asking me to do the laundry, which I had already folded, and I got annoyed. The conversation went like this:
"Thirty cloves?"
"Dirty clothes?"
"Thirty cloves?"
"Dirty clothes?!"
Much hilarity ensued when we got on the same wavelength.
Chicken with 40 cloves
1 cup chopped onion (about 2 medium)
1 cup chopped celery (about 3 stalks)
1/4 cup fresh tarragon leaves
2 lb dark meat chicken, bone in and skin on (or two pieces per person)
1 cup olive oil
1/2 cup white wine
salt and pepper, or Trocomare
40 cloves of garlic (or 10 per person), removed from head, single paper still left around clove
Preheat oven to 425
Arrange onions, celery and tarragon in casserole dish.
Arrange chicken pieces over the veggies, skin side up
Tuck garlic cloves, removed from head but still in peel, around chicken
Drizzle generously with olive oil and wine
Sprinkle with salt and pepper, or in my case, Trocamare
Bake for at least an hour, until chicken is done, skin is crispy, garlic is soft, and your kitchen smells so good you can't stand it. Serve with crusty bread to squeeze garlic on. Fight over the garlic and drippings with your bread. Stink like garlic for days and be happy about it.
This recipe will win you friends and lovers.